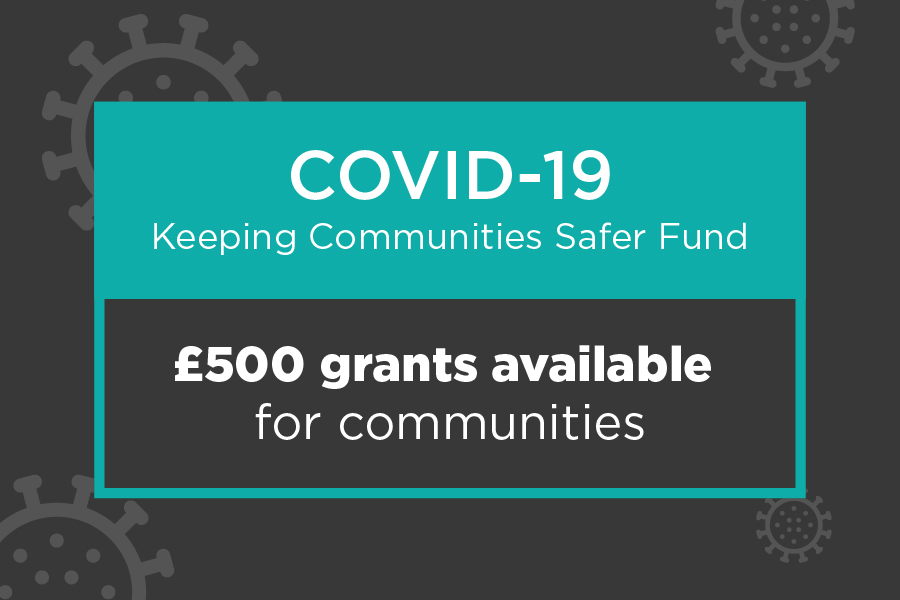 Commissioner's fund helps to keep communities safer during COVID-19 pandemic
04 May 2020
Police and Crime Commissioner Michael Lane has responded to communities in need during the pandemic by setting up a COVID-19 Keeping Communities Safer Fund. To date the Commissioner has awarded 36 grants totalling over £12,300.
Through the Fund, the Commissioner has awarded grants to initiatives across Hampshire, the Isle of Wight, Portsmouth and Southampton ranging from tech and subscriptions to enable online counselling and support to the vulnerable, to security systems for buildings currently standing empty, to materials for a social distancing poster project with young people.
To date the Commissioner has awarded 28 grants under his COVID-19 Keeping Communities Safer Fund totalling over £12,300, with a further 24 applications in the pipeline which are expected to take the total invested close to the current fund limit of £25k.
Michael Lane said: "I have been overwhelmed by the number of applications received from organisations across Hampshire the Isle of Wight, Portsmouth and Southampton, and have been delighted with the enthusiasm and initiative people across all our communities are showing during this time.
"Having the right resources at the right time to enable those people supporting our communities to do so is essential. The Covid-19 Keeping Communities Safer Fund aimed to do exactly that – provide funding quickly to help to support communities as they work together to be safer during this time."
The fund is part of a wider package of support for communities and service providers that the Commissioner has developed to help protect the vulnerable, support victims and reduce offending during the pandemic and beyond.
Projects in and around Southampton include:
Unity 101 – £500 to pay for producing and providing a series of radio broadcasts to enable Hampshire Constabulary to get crucial pandemic safety messages to Southampton's BAME communities, such as lockdown rules, local crime incidents, safety warnings, details of support services for vulnerable people, tips to prevent residents from becoming a victim of crime, and sources of support.
Southampton Advice & Representation Centre (SARC) – £500 for two refurbished laptops and associated costs to continue to provide a vital service for our clients working remotely. SARC work with some of the most vulnerable and disadvantaged in relation to welfare benefits and employment law helping to alleviate poverty and its impacts.
Amber is a chaplaincy service for women involved in the sex industry in Southampton, offering a listening ear, emotional and practical support, signposting and prayer. The £500 grant money will contribute towards enabling the organisation to continue its work in these times, including PPE equipment for staff and volunteers, signs for cars to enable social distancing when carrying out outreach work and personal attack alarms to give to the women.
Projects in and around Portsmouth include:
HIVE Portsmouth – £500 towards the cost of producing and distributing a leaflet to reach people across the city with key messages and help address the gap in the information between those who have internet access and those who don't. The next leaflet will include information about how people can seek support around domestic violence.
Friends of Alverstoke Junior School – the children of the school would like to raise awareness in the local community about keeping safe and crime prevention over the coming months. The £100 grant will pay for professional printing of the posters and letters.
Chrysalis – purchase of webcams, headsets and networking equipment to allow the Chrysalis team of facilitators, counsellors and support staff to work from home and provide support services to vulnerable members of the LGBT+ community online.
Projects in Hampshire include:
Thruxton Virus Volunteers Group supporting 40 vulnerable / self-isolating residents in the COVID-19 CRISIS – will use the funding a variety of resources including lanyards for volunteer identification and lanterns and pay as you go phones for vulnerable.
Test Valley Citizens Advice – funding for mobile phones for advisors so they can work more effectively from home supporting those who need access to advice and meet increased demand.
Community officer for Swanmore Parish Council, Shedfield Parish Council, Owslebury Parish Council – to purchase a tablet to aid making immediate referrals to the food bank, keep up to date with neighbourhood issues, look up information and support links for residents including crime prevention advice.
Winchester and District Neighbourhood Mediation Service – video conferencing system to use to for mediation to stop disputes escalating into offending and protect vulnerable tenants.
Yateley Industries – for wellbeing checks and work with disabled residents to help comprehension and understanding of the restrictions currently imposed by Government.
Projects on the Isle of Wight include:
Suicide Prevention and Intervention IOW – the loss of income and a down turn in businesses along with the loneliness that people are experiencing as a result of the pandemic could cause increases in depression, addictions and suicide. A £500 grant has been awarded to pay for a new laptop to ensure another member of the team is available to answer online chats and help people cope with the impact of the pandemic and on their mental health.
Federation of Shalfleet & Yarmouth CE Primary Schools – £500 to enable the most vulnerable children to access online learning from home, using fit for purpose, protected equipment to embed their previous learning from class and aid future learning.
Network Ryde (Virtual Youth Club) has put together a 'Virtual Youth Club' programme aiming to keep young people engaged and involved in daily activities. Their grant will pay for materials for street art project which requires the young people to create posters or artwork about social distancing. By providing this activity it will give the young people something positive to do at home whilst in lockdown and also help them to understand the importance of why we are socially distancing.
Citizens Advice Isle of Wight has seen an increase in the numbers of people needing their support since the pandemic. A grant of £348 has been awarded for two mobile phones and contracts, to enable their volunteer Advisers to work from home to be able to give advice and support to those who need it most.
List of all successful grant recipients to date:
Thruxton Virus Volunteers Group
Test Valley Citizens Advice
Community officer for Swanmore Parish Council, Shedfield Parish Council, Owslebury Parish Council
Winchester and District Neighbourhood Mediation Service
Yateley Industries
Farnborough Scouts
North Baddesley Parish Council
Weeke Community Centre
HIVE Portsmouth
Friends of Alverstoke Junior School
Chrysalis
Gosport Borough Football Club
One Community Pay
Burridge social and sports club
Community Centre
Suicide Prevention and Intervention IOW
Federation of Shalfleet & Yarmouth CE Primary Schools
Network Ryde (Virtual Youth Club)
Citizens Advice Isle of Wight
VieNess Discover You Love You CIC
Southampton CV19 Support Group
Southampton Carers
Taqwah Mosque Trust
Amber Chaplains
Medaille Trust
Unity 101
Swaythling Parish – St Alban's and St Mary's Churches
Southampton Advice & Representation Centre LTD (SARC)