The Hampshire and Isle of Wight Local Criminal Justice Board (LCJB) brings together agencies with responsibility for delivering criminal justice services for communities in Hampshire and Isle of Wight with a common purpose, specific aims, clear direction and shared accountability.

Working together to deliver a fair, effective and efficient criminal justice system in Hampshire and the Isle of Wight.
The criminal justice landscape is complex and multi-faceted and no single agency is responsible for the system as a whole.  It is vital that criminal justice agencies are unified in their ambition and work together in the most efficient and effective way possible, to improve outcomes both for victims of crime and people who offend.
By working together, we can ensure a better shared understanding, enable cost savings through more efficient ways of working and provide a more joined-up and effective criminal justice system that is better able to focus on justice for victims and offenders.
Criminal Justice Process
Click to view the low-resolution poster below, or download the high-resolution pdf for printing here.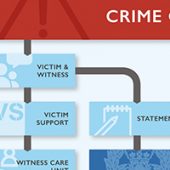 Check out the A-Z of Criminal Justice
Annual Report
Our vision
The LCJB's vision is to deliver in partnership, a fair, effective and efficient Criminal Justice System, focusing on the service given to victims and witnesses of crime, prevention and rehabilitation of offenders in order to make Hampshire and the Isle of Wight a place where people will feel safe to live, work and visit.
Our purpose
The purpose of our LCJB is to deliver measurable outcomes that enable excellence in service delivery to all local residents in order to raise public perception to both be safe and feel safe. This is achieved by:
influencing at a national level
challenging and holding each other to account with honesty, energy and transparency
developing positive relationships across the CJS to add collective value and unblock perceived and real issues within the system
being ambitious and innovative for the people we serve.
Click to view the members of the LCJB 
LCJB priorities
Improve the service delivered to Victims and Witnesses
Reduce re-offending and reduce crime
Deliver an effective and efficient criminal justice system
Through monitoring and measuring performance meaningfully and collectively, the LCJB will know whether the plan is working. Effective collaborative working by criminal justice agencies across the LCJB sub-groups is essential to deliver the priorities.
The LCJB is also committed to communicating the work that is on-going within the criminal justice system to promote justice and provide a better understanding to the residents of Hampshire and the Isle of Wight.