12 March: My case for increasing the council tax precept
12 March 2021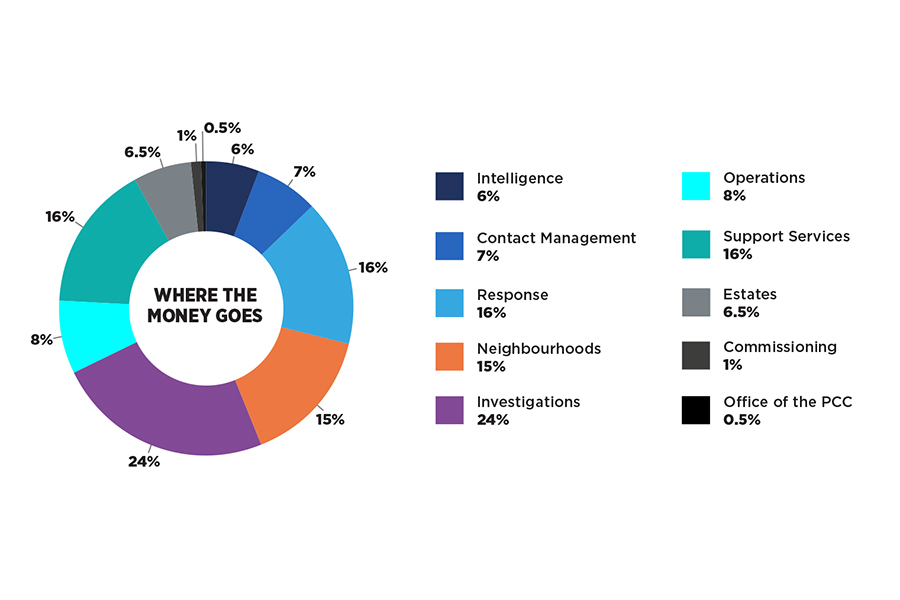 From day one since I took this role, it has been a privilege and responsibility to serve and represent our communities. The past year was not a year any of us would have wanted, and the challenges we faced and are facing are not over yet.
A year on, there is a need to recognise the losses we have suffered, the challenges still ahead of us, and the continued need to protect, reassure, and create plans for a SAFER future at a time of evident risk.
A year ago, when we first went into lockdown, there was a period of rare reduction in crime as criminals and those who wish us harm locked down too. Our frontline officers were more visible, and there was time to hear from and engage with those we serve. It was a time that reinforced public support for policing and starkly reminded us of what was on people's minds. It began a journey showing new challenges, new risks, and new fears within our communities, and it was clearly a time to change. We will not be going back to what was before, we will be going forward to a new future.
When I arrived in 2016, I promised to each constituent to keep you and your family safer. That year I created my plan. In 2017 my engagement with commissioning partners and testing of the policing requirement to be operationally effective now and into the future had matured. And by 2018 we had progressed to investing in policing, having created opportunities through consistent lobbying for funds, opportunities to invest in the frontline and supporting infrastructure. In 2019 we continued this progress with community support, and this year we will have additional police officers and crime reduction and prevention to keep us safer as per my original promise.
But it does require an increase of the policing precept to deliver.
Why an increase is the only option
I am conscious that I have continued in this job due to COVID-19 – when the elections were postponed last year, I responded and created a new plan at speed that recognises the suddenly emerged global and local impact, and creates a solid foundation for my successor and the development of a new Police and Crime Plan that takes into account this changing landscape we all inhabit, identifying need and responding to new challenges in our communities.
Considering the significant support I have received from local residents and the compelling operational case from the Chief Constable that crime would be reduced, I firmly believe that an increase of the policing precept will keep local residents and our communities safer and is the only option.
This argument is underpinned by a wealth of detailed conversations, tested by detailed examination, and a strong challenge to the Chief Constable to make her operational case to me.
At the Government's settlement decision at the end of the year, it became clear that £15 had been set as the maximum increase and that Government factored this into its settlement figure for what policing received nationally.
I am very conscious of the significant impact the pandemic has on our stretched economy, which affects all of our communities and many individuals. Which is why, in setting scenarios to consider in October last year, I first tested what could be done with no rise in council tax funding. Subsequently, we looked at what could be delivered if funding were to step up 1% by 1%, and what would be the risks if such funding would not be provided.
The Chief Constable's operational case
In making her case to me for increased funding the Chief Constable was very clear that additional investment is required through the proposed precept increase:
More frontline
To ensure there are more frontline police officers and staff to provide a visible presence, prevent crime and investigate incidents when they occur, and sustain PCSO numbers.
Right place, right time
To ensure effective routes for the public to contact policing in both emergency and non-emergency situations, and for policing to be able to ensure that contact from the public is directed to the most effective and appropriate service or partner to support their enquiry
Better equipped
To enable the Constabulary to invest in the technology, equipment and wellbeing initiatives that make those officers and staff ever more effective and present on the frontline
Investment in the police estate
To ensure the Uplift in police officer numbers is supported by the right estate provision; this includes Bitterne Police Station, Netley and investment in the Isle of Wight estate.
Increased crime prevention initiatives
To allow for an expansion of the Safer Streets initiative to Basingstoke and Portsmouth, building on the work already undertaken in Southampton.
Rural crime
To further invest into resources to prevent and tackle rural crime, including funding for a geo tagging scheme for quad bikes and high value farm vehicles and machinery, and additional 4×4 vehicles in support of rural policing.
Not just an opportunity, but a necessity
We continue to be underfunded as a Constabulary, it is a significant loss every year of more than £40m, and it's the first reason why, however well officers perform, the opportunity to do more is under significant pressure.
The council tax precept increase is not just an opportunity, but a necessity to delivering visible improvements in policing and outcomes in every constituency, district and borough.
It is necessary for making the investment to enable the Constabulary to continue to be a modern, operationally effective police service.
It is necessary for supporting the training and equipment of the additional 153 officers delivered through the Uplift.
And it is necessary for ensuring that reserves remain adequate to meet the significant number of known cost pressures and risks during a time of exceptional change and uncertainty.
It will keep our communities safer, and help us continue on this journey of supporting policing in Hampshire, the Isle of Wight, Portsmouth and Southampton.
This case was first delivered to the Police and Crime Panel during its meeting on 29 January 2021. 
Further information about the policing budget and the policing element of the council tax.